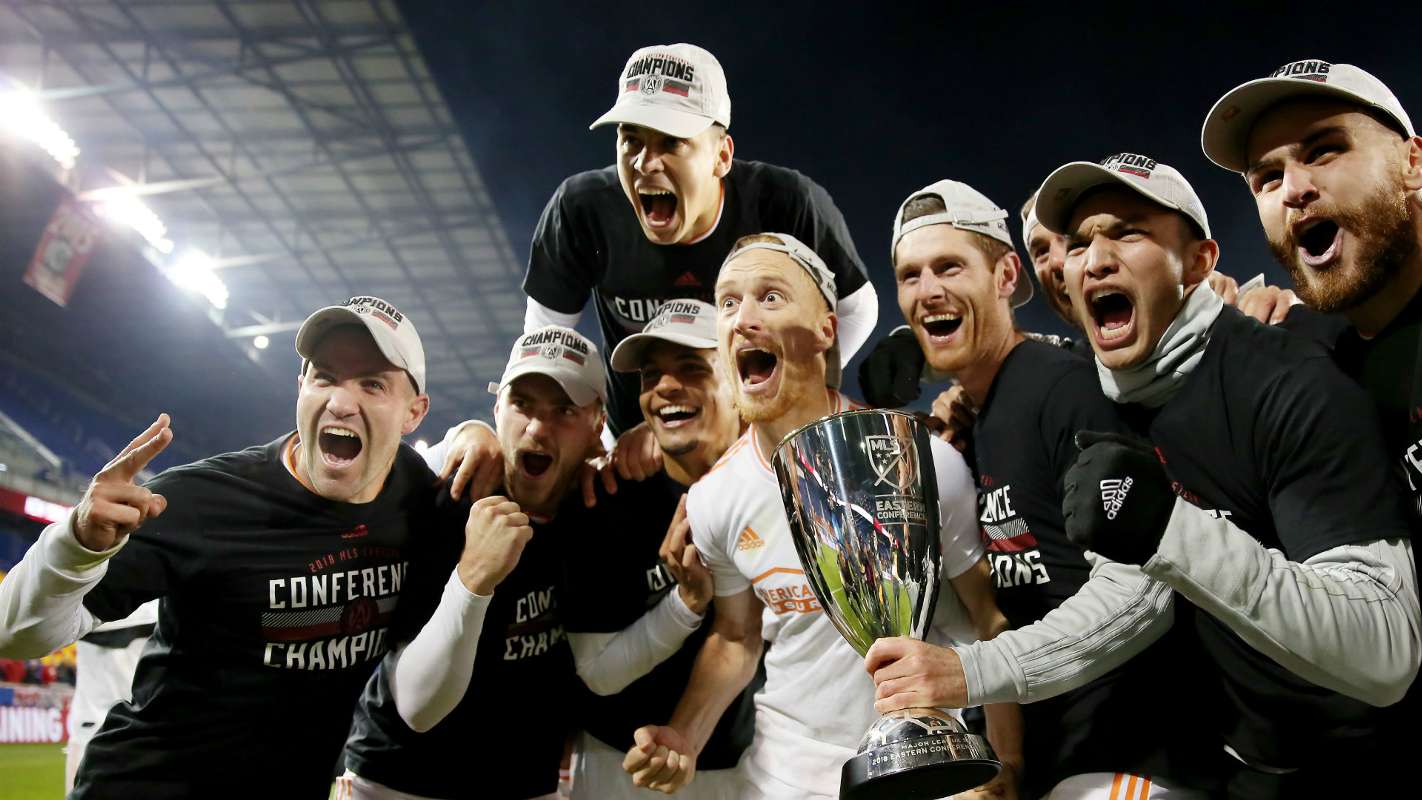 (Photo: Reproduction)
Atlanta United boasted the league's highest-scoring attack this season, knocking in a whopping 70 goals, but it has been the team's increased commitment to defending, and the continued evolution of its back-line, that has helped the Five Stripes reach the MLS Cup final in the team's second season.
Thursday's final score at Red Bull Arena may have read 1-0 to the New York Red Bulls, but Atlanta's defense did the job of protecting a three-goal lead, limiting the Red Bulls chances for 90 minutes before a late Tim Parker consolation goal spoiled the shutout, but not Atlanta United's MLS Cup-clinching series win.
"I think we've had some big performances throughout the year where we had to sit on leads and grind wins out," Atlanta United captain Michael Parkhurst told Goal. "I think that's one thing this team has learned to do better this year, just grind games out. If you're not having a day offensively for one reason or another you have to be able to take pride in defending and winning battles and this year we've been able to do that."
Dembele to PSG, Arsenal or Liverpool? The clubs who could sign Barcelona's €145m problem child
Atlanta United's shift to a defensive system of three central defenders and two wingbacks has helped tighten things up defensively for a team that failed to register a shutout in any of its final four regular season matches, culminating in a 4-1 loss to Toronto FC that cost Atlanta United the Supporters' Shield.
"In the final matches of the regular season the team labored and gave up too many goals, and it wasn't the way we were going to have success in the playoffs," Atlanta United coach Tata Martino said "So we were going to have to opt for a style of play that we had played during the season, which was the line of five, and it was the system that has given us the most security defensively. This has helped us be solid defensively on the road and dominant at home."
The change in system has helped bring the best out of Atlanta's defense, with veterans Parkhurst and Jeff Larentowicz providing leadership and steadiness, and Leandro Gonzalez Pirez bringing the physically-dominating presence along the back-line.
"We talked about being organized, talking to each other, communicating, and ultimately being intense, and getting in guys faces and making it difficult for our opposition, whether it was NYC or Red Bulls," Atlanta United goalkeeper Brad Guzan said. "From the start of this playoff run, we talked about being harder to play against, and tougher in all aspects of the game. We've shown that in four games now."
The result has been a stretch of four matches where Atlanta United has allowed just two goals, both scrappy set-piece goals by opposing defenders when each series was already essentially out of reach.
Martino isn't about to buy into the notion that Atlanta United is now a defensive-minded team. He doesn't see the team's setup, built around a five-man defense, being inherently defensive, and the seven goals the team scored in four playoff matches so far supports his belief. Atlanta United is still that team that can rip you to shreds with its attacking weapons, only now it is playing the kind of defense that can stifle opponents and could deliver a championship.
Thursday was the latest evidence of that, with Atlanta United creating some dangerous chances, and largely limiting the Red Bulls' opportunities, save for a Tim Parker consolation goal in second-half stoppage time.
"Today was the certainly the game we wanted to play," Martino said. "We know it wasn't one of the team's best performances, or the most attractive, but it was a practical performance and I do think it gives you and calmness to have a team that can adjust to different situations because this was a game that played out that way, but didn't bring opportunities because of the superiority of the opponent, but you need to be able to play in that kind of game."
One more game remains for Atlanta United, and it will be a Portland Timbers team that is definitely capable of testing out just how defensively solid Atlanta United has become. Given how many weapons both teams have, there are very likely to be a few goals scored at Mercedes-Benz Stadium on December 8, but Atlanta United's renewed commitment to defense should give the second-year club an excellent opportunity become the latest team to live up to the sports adage that defense wins championships.
Goal.com